Lithotripter
Dornier Delta® III
The World's Bestselling Lithotripter, the Compact Delta®II, just got better. The Dornier Delta®III offers Powerful IMAGING, Maximized ENERGY, and Enhanced EFFICIENCY to support urologists in relieving kidney stones in patients and improving the bottom line of their business.
APPLAUSE for the Delta III! Click here to hear what this doctor says (we didn't ask him to rave about it…he did that on his own)
Powerful IMAGING: for improved stone visualization.
Maximized ENERGY: to treat more stones in more patients.
Enhanced EFFICIENCY: for time saving features to serve more patients.
Next Generation Stone Laser
Dornier Medilas® H Solvo® 35
Europe's market-leading laser Solvo has now advanced further, with unique features that set it apart from other holmium lasers: the new Solvo 35
Featuring our patented Advanced Mode™ for reduced retropulsion, a unique pulse shape for decreasing stone movement during lithotripsy.
This advanced 35-watt laser also offers preset treatment modes, two displays for flexible viewing, and a wireless footswitch to make treatment of all types of stones highly efficient.
Thoughtfully modelled using extensive customer research—the Solvo 35 has been designed with the urologist's "ideal" stone laser in mind.
High Powered Urological Laser
Dornier Medilas® H 140
Introducing the Dornier Medilas® H 140, the most powerful, versatile and fastest holmium laser on the market today:
The high-power and high-energy device delivers optimal treatment efficiency in endourology with 140 Watt power and up to 6 Joule energy
Its frequency of 100 Hertz ensures fast class dusting and cutting procedures
The Medilas H 140 is the only holmium laser that features an optional integrated morcellation module, enabling streamlined and economical BPH treatments
Discover the power, speed and versatility of the Dornier Medilas® H 140.
Single-Use Digital Ureteroscope
DORNIER AXIS™
Clean and clear, Every TimeTM
The Dornier AXIS™ Single-Use Digital Ureteroscope provides every patient a clean scope with a clear view – every time. Eliminate the cost and risk associated with reprocessing. You and your patient deserve an innovative, quality ureteroscope that helps bring quality care to the next level.
Use the Dornier AXIS every time, for a clean and clear scope at an affordable value.
*The Dornier AXISTM is only for distribution and use in the United States. Please contact our sales representatives in respective regions for availability.
Fully Functional Uro-Platform
Dornier Gemini
Dornier Gemini is a premier, full-functional urological platform that provides an unparalleled solution for both lithotripsy and endourology procedures. Equipped with the latest imaging technology, superior open access design, and flexible patient positioning, Gemini is the optimal solution for both urologists and patients.
Flexibility: Offers a variety of therapeutic and diagnostic capabilities including X-ray, Ultrasound, Endoscopic procedures and lithotripsy
Accessibility: Open access design enables patient and urologists comfort while localizing kidney stones and other urological issues.
Proven Technology: Integrated with Dornier's proven shock-wave technology, deliver consistent shock wave output to boost success of non-invasive kidney stone treatments with proper patient positioning.
Urological Workstation
Dornier Genesis
Addressing a broad range of applications, Dornier Genesis is an advanced urology imaging system designed with the physician's office or hospital's workflow in mind. Full cystoscopy capabilities combined with a 340 kg (750 lb.) patient weight limit and the latest flat panel imaging technology on the market today, makes this an efficient and must have system for a variety of urological exams and procedures.
Adaptability: Ideal for both hospitals and large medical centers.
Patient Centered: Imaging is easily viewed from a wide variety of angles without having to move the patient.
Flexible: Accommodates patients of various age groups, weight range, and handicaps.
Lithotripter
Dornier Compact Sigma
The Compact Sigma is a truly versatile modular lithotripter. When combined with available options such as C-arms, ultrasound scanners, and a fully motorized patient table this device is easily becomes a complete urological solution.
Precision: Designed to revolve around a single focal point, precise alignment of the targeting system is easily achieved.
Transportable: No need for a dedicated room, simply wheel the device into a closet or other storage when not in use.
Flexibility: Patients are positioned supine for all treatments with the flexible over and under therapy head positioning.
Lithotripter
Dornier Compact Delta II
The Dornier Compact Delta II is the world's best selling lithotripter. Highly effective, this versatile system provides the flexibility necessary for easy positioning and accurate stone targeting. When combined with the Relax+ patient table, this unique system, equipped with an integrated C-arm, is not only used for ESWL, but a wide range of cystoscopy procedures.
Adaptable: Integrated with a versatile patient table and flexible therapy head for accurate stone targeting.
Clear Imaging: Rich, vibrant views are facilitated with X-Ray or ultrasound imaging technology.
Proven: Dornier's tried and true EMSE technology is the gold standard in shock wave excellence.
Multifunctional Patient Table
Dornier Relax+
Dornier Relax+ is the optimal patient table that gives you the flexibility you need to get the job done. Easily switch between treatment modalities such as endourology and lithotripsy without having to change patient positioning.
Lightweight: Carbon fiber tabletop design provides all of the quality and strength you need without adding extra weight to the device when transporting.
Versatile: Full range of movements including Trendelenburg and isocentric tilting eliminates the need for constant patient or physician repositioning.
Flexibility: Equipped with a radiolucent table top, the Relax+ is excellent for use in imaging procedures
Shockwave Therapy
Dornier Aries 2
The Aries® 2 combines award-winning design together with proven EMSE electromagnetic shockwave technology that offers treatment options for a range of Urological and Orthopaedic indications. The Aries® 2 applicator features SmartFocusTM technology in both Standard and I-Shaped applicators – providing the ability to easily adjust shockwave output at the touch of a button, without any additional add-ons.
Dynamic Depth Control: SmartFocusTM technology provides users with the ability to increase or decrease energy level and penetration depth, at the touch of a button – without the cumbersome exchange of gel pads or add-ons. This provides you with the flexibility to work between multiple treatment areas requiring different energy / depth requirements without downtime (e.g. moving from penile shaft to crus area for ED therapy)
0-100 Real Quick: The Aries® 2 applicator features a fully closed system complete with an automatic, rapid air-pocket removal system. This means an easy start-up and operation for users, with close to no waiting time beforehand.
Modular Concept: Thanks to its modular concept you can adapt the Aries®2 according to your needs. The Aries®2 comes with either a tabletop setup or together with a cart, allowing for easy movement of the device from one room to another and storage of daily needed equipment.
*The Aries 2 is for distribution and use in specific countries only. Please contact our sales representatives in respective regions for availability.
Shockwave Therapy
Dornier Aries
Dornier Aries offers an entirely new, non-invasive treatment approach for patients suffering from vasculogenic erectile dysfunction. This first of its kind shock wave treatment activates angiogenesis to help correct erectile dysfunction in the penile and pelvis tissue – resulting in increased blood flow necessary to attain and maintain an erection sufficient for sexual performance.
Easy: Non-invasive and painless treatment that can be conducted in the privacy of the physician's office.
Effective: Dornier Aries offers an effective and convenient treatment option.
Exciting: Dornier Aires helps restore spontaneity to a patient's sexual life and improve the quality of their erection.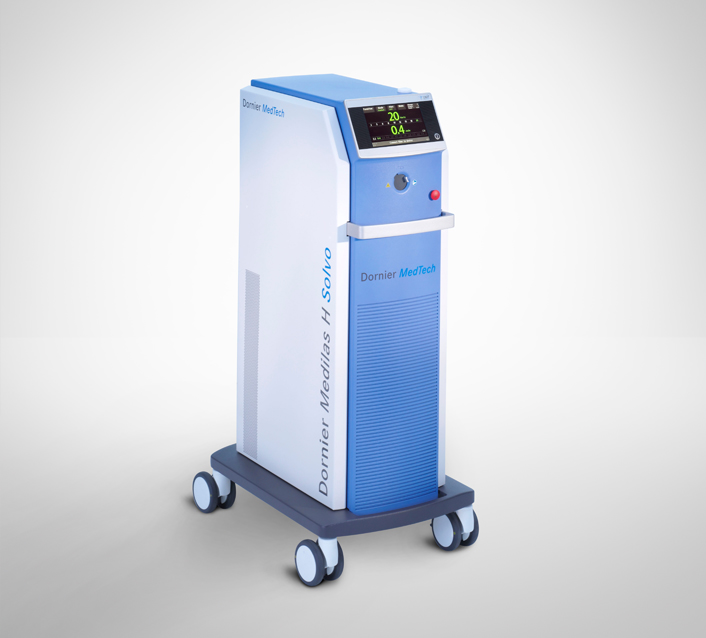 Laser Stone Management
Dornier Medilas H Solvo
Dornier Medilas H Solvo easily integrates into any OR workflow for the destruction of stones as well as soft tissue interventions in endourology. This 30 W holmium laser provides the power necessary to get the job done all within a compact and transportable system. Equipped with special advanced modes, usability and increased efficiency is optimized. No other device available on the market provides this level of flexibility and versatility!
Easy: Programmable settings allow you to quickly choose the treatment mode best suited for the clinical situation.
Fast: Simply transported and requiring no warm up time, set-up is quick and efficient.
Efficient: Wide range of energy and frequency settings that ensure quick and precise breakdown of any stone.
Click here to watch this video of a ureteroscopy and laser lithotripsy procedure using the Dornier Medilas H Solvo.
Laser Stone Management
Dornier Medilas H UroPulse
Among the smallest in its class, the Medilas H UroPulse is a compact holmium laser that is readily integrated into trolleys, racks, or ceiling pendants. This 20 W system is optimally designed for effective stone management and soft tissue applications. The color graphical interface allows the physician to promptly modify the wide range of energy and frequency settings to ensure a quick and precise set-up throughout a variety of surgical settings.
Effective: Wide range of energy and frequency settings to ensure quick and precise breakdown of any stone.
Ergonomic: Easy to read graphical interface and wireless programmable footswitch provides ergonomic workflow.
Convenient: Small and compact desktop design integrates seamlessly to optimize space.
Fibers for Laser Stone Management
Dornier FlexFiber Collection
Dornier offers a broad fiber portfolio with a wide range of sizes and various designs to meet our customer's needs and preferences. Our fibers are built for precision!
Performance Innovation: Intelligent fiber recognition system that optimizes holmium laser performance and overall patient results.
Enhanced Focus: Superior technology that efficiently transfers the laser beam within the fiber core to achieve maximum power transmissions.
Reliable Durability: Exceptional quartz ferrule design that boosts and extends the effectiveness of your fibers.
Tested and Adaptable: 100% of our fibers are quality and performance tested prior to shipment and are available in multiple sizes to fit any scope preference.
Other Products
Over the years, Dornier MedTech has provided a variety of products designed to serve the needs of medical centers across the world. To learn more about our full suite of products, please contact us.